Acoustic Living Wall
Overview
Designed to mitigate industrial noise while maintaining strong visual appeal, the Kimpton Acoustic Living Wall or Noise Screen is a solution that is popular in areas where the visual impact of noise mitigation measures is a key consideration.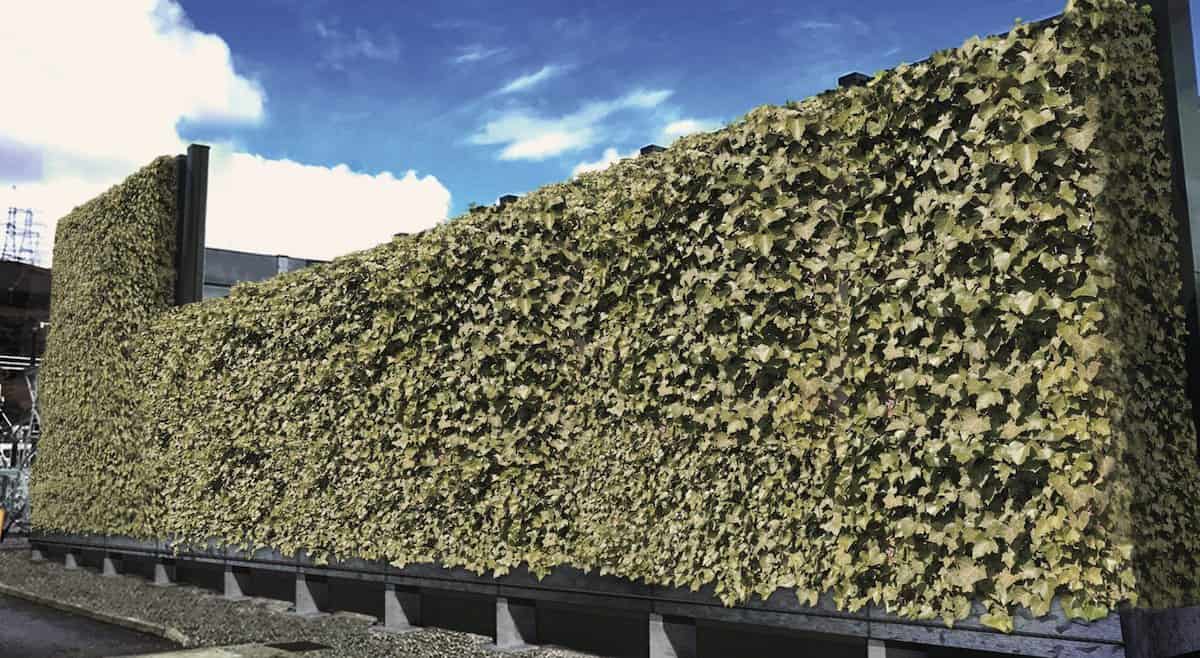 When to choose an Acoustic Living Wall
Typical applications include industrial and residential boundaries, locations adjacent to transport routes, as well as commercial premises that need a heavy-duty, long life, solution that delivers outstanding acoustic performance while sensitively considering the visual impact in the environment that it sits.
Flexible in nature, the system is available with heights from 2m to 15m as standard with greater heights also possible in special applications. Its modular format allows it to be built to any length and the compact design occupies minimal footprint on site. Where ground levels are complicated, the system can also be used to act as a retaining wall at lower levels, while still providing above-ground screening up to 15m high.
The infrastructure to support the living elements is integrated into the structure, and there is a choice of planting options available. In standard form, the living elements are pre-grown to provide immediate visual impact, and over time fill out further to extend their coverage and depth to enhance the screen with natural growth in situ.
What lives in an Acoustic Living Wall?
For most applications, the evergreen background cover is provided by Hedera Helix (Ivy) 'Woerner' which is selected for its attractive foliage and its reliability and low maintenance demand. This variety can then also be over planted with additional climbing seasonal interest plants if desired. The diversity of planting will also provide additional benefits to pollinating insects and other wildlife.

The living elements are fed by an automatic irrigation system that supplies them with water and fertiliser at the correct rate to ensure that the plants stay healthy and retain their natural coverage. The irrigation system can optionally be provided with remote monitoring of the irrigation controller which will provide alerts in the event of a system failure and allows time for our engineers to attend to the issue before the plants are affected.
Ongoing Maintenance
As with all plants, some ongoing maintenance is essential to keep them in good shape. The maintenance demand depends on the plant varieties selected but the typical minimum is a twice-yearly major visit to prune, weed, tie-back, tidy and maintain the irrigation system in Spring and Autumn. These visits do require personnel access to the full height of the screen, so the access method is always planned for during the design stage.

During the course of the year, there would also typically be a further two summary visits which are carried out to visually inspect the overall health of the screen, and check the operation of the irrigation system including pumps, fertiliser dosing equipment and to carry out filter cleaning, as well as to adjust the fertiliser rate according to the season.

With maintenance, these high-performance screens are designed for a long life span outdoors, typically for 25-40 years, making them a long term cost-effective solution to unwanted noise wherever the visual impact of mitigation measures is a priority.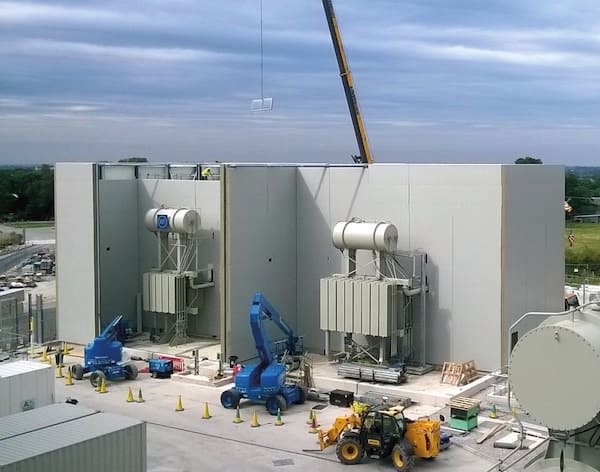 Acoustic Considerations with a Living Noise Screen
The acoustic elements used within the screen are selected based on the application and noise spectrum that is to be mitigated.
The acoustic panel design used is tested for transmission loss in accordance with BS EN ISO 140-2:2010 'Acoustics — Laboratory measurement of sound insulation of building elements — Part 2: Measurement of airborne sound insulation.
As standard the screen is fitted with Kimpton Type M7 acoustic panels that will achieve a weighted sound reduction index of 42 dB Rw, having the noise spectrum characteristics as in Fig1 below, however any other panel combination can be selected from the table to suit the application.
The acoustic panels are noise absorbent (facing noise source), with the vertical greening living elements located on the reverse side.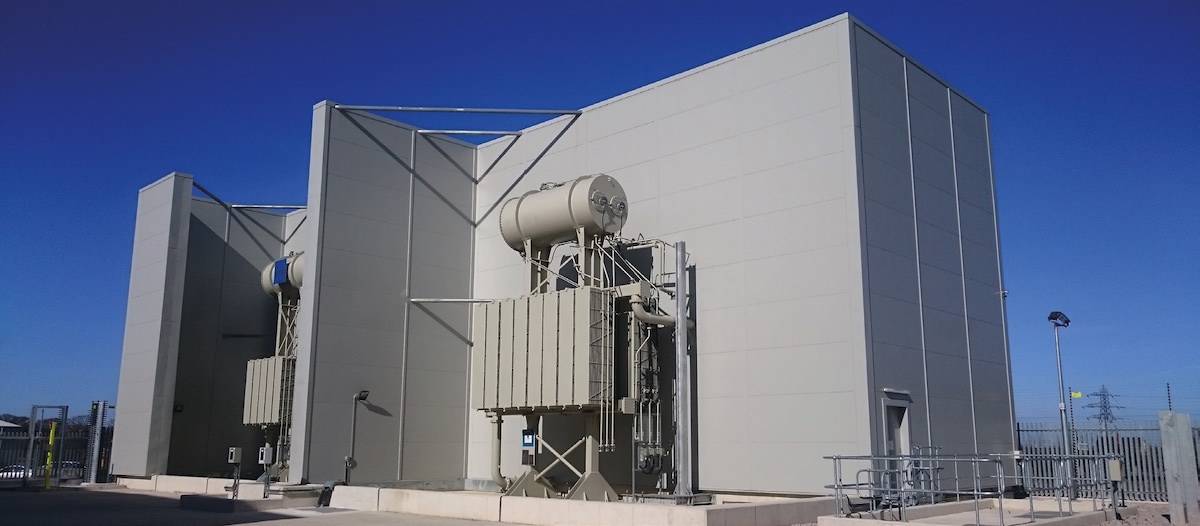 Structural Considerations
The screen is designed to follow Eurocode standards as relevant under the following:
EN 1990:2002 Basis of Structural Design
EN 1993-1 Eurocode 3: Design of Steel Structures
EN 1991-2:2003 Eurocode 1: Actions on Structures Part 1-1 General Actions – densities, self-weight, imposed loads for buildings
EN 1991-1-4:2005 Eurocode 1:Actions on Structures Part 1-4: Wind Actions
BCSA Joints in Steel Construction: Simple Connections
BCSA Joints in Steel Construction: Moment Connections
Horticultural considerations
Selection of plant stock is designed to reduce risk and ensure screen health by utilising high-quality commercial grade plant stock with the following specifications:
Meeting DEFRA requirements for biosecurity.
Plants passported, with phytosanitary certificates where required.
Inspected to confirm free of pests/disease.
Of a suitable size/maturity for the application.
Planted Topsoil is to BS3882.
Acoustic Living Wall Construction
The acoustic Living Wall is installed on free-standing structural steel columns and can be secured direct to concrete foundations or pile beam connections.
To ensure anchor fixings cannot work loose through vibration, the anchors are tightened to design torque and are then locked in place using a double nut arrangement, and the thread zone beneath the base plate is further encased in non-shrink grout. In extreme cases, where vibration energy below ground presents a risk of exciting the screen structure then anti-vibration mounts can optionally be provided.
The panels are installed with a lapping metal flashing seal to all vertical joints, and at their interfaces with the base. The horizontal panel-to-panel joints are normally dry jointed; however, these can optionally also be joint sealed to provide enhanced performance where required. In all cases, the acoustic panels are positively fixed to the structure using self-drilling screws. These screws can optionally be specified with anti-vibration threads if required.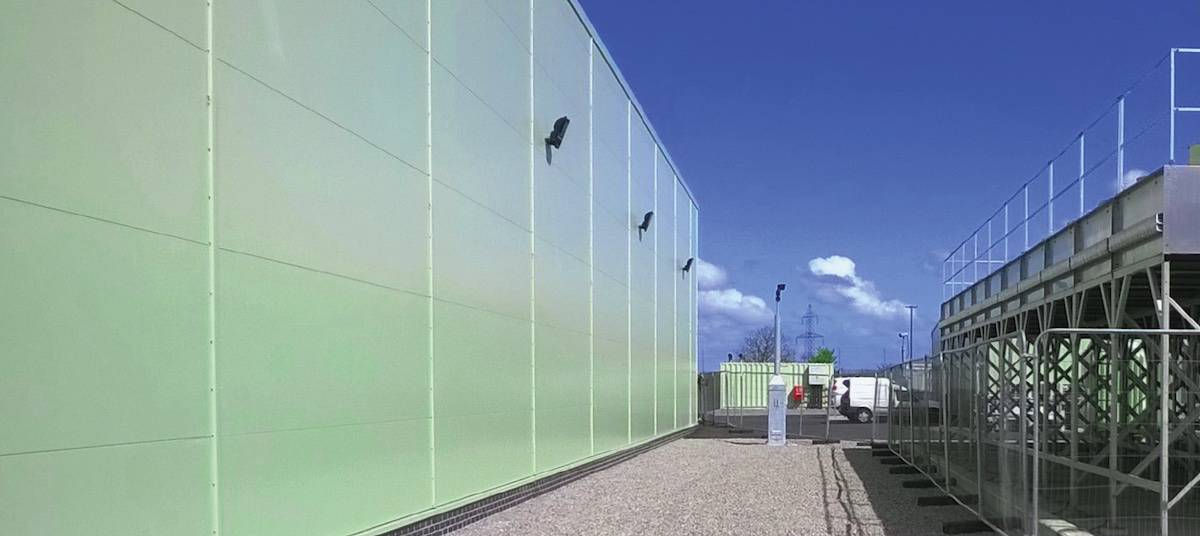 Acoustic Panel Construction
The Kimpton acoustic panel range for this system provides a wide selection to the specifier; that by matching frequency peaks allows for optimisation of the noise barrier according to the signature of the noise source.
The panels use a combination of noise absorbent and mass material layers in order to achieve the performance characteristics required. The acoustic media used is nonhydroscopic, non-combustible, is rot proof and will not support vermin.
The casing of the panels (including the plain back face of the panels facing the noise receptors) is manufactured from pre-galvanised steel that is epoxy powder coated in order to provide a durable high-quality finish in any standard solid RAL colour.
On the noise source side of the screen the panels have a perforated face set within the framing of the panel casing in order to allow the panel to have sufficient open area to provide noise absorbency in addition to transmission loss. This perforated face is manufactured from pre-galvanised perforated steel sheet with a polyester underlayer.
The perforated sheet can also optionally be powder coated in any single standard solid RAL colour.
Benefits of the Kimpton Acoustic Living Wall
The Kimpton Living Acoustic Screen with Vertical Greening brings additional benefits over conventional acoustic screens.
Instant visual improvement and interest, shielding visual impacts as well as providing noise mitigation
Encourages local bio-diversity by providing enhanced insect and bird habitats in urban areas
Freestanding design allows the screen to be deployed even in compact site locations
Long life design and low maintenance requirements with automated irrigation and feeding system
Planted face deters graffiti vandalis
Acoustic gains (beyond specification) from foliage through diffraction and absorption that improves as natural growth develops
Ability to double up as a free-standing retaining wall at lower levels where steps in landscaping levels are desirable
Variety of planting choices, including flowering interest plants, available to tailor the screen to the proposed environment
The acoustic elements can be varied and are selected from a proven range – to suit the optimum for the site specific application – based on the signature of the noise source and the noise reduction required
Cost effective lifetime maintenance packages to support both the living elements and hard infrastructure are available